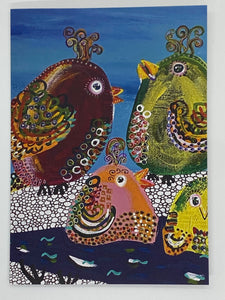 Print taken from a section of the Original Artwork "Everlasting".
Printed on Portrait 12.5cm x 17.5cm blank card.
Meaning behind the original painting - Everlasting
Moving through life there are people and moments that are 'everlasting'. The memories, the crazy times, the friends, the laughter, the love you have for each other, the eternal bonds, the beautiful times you have shared and those that are waiting for you in the future will last forever.
The brightness of colour represents the sheer joy that these everlasting moments bring.